custom 360° Experiences
Our Custom 360° Experiences are the all-in-one solution for virtual showcases, events, and e-learning.
With an incredible amount of flexibility, our custom virtual experiences take user engagement to an all new level.
Check out some of our uniquely built custom 360° experiences below!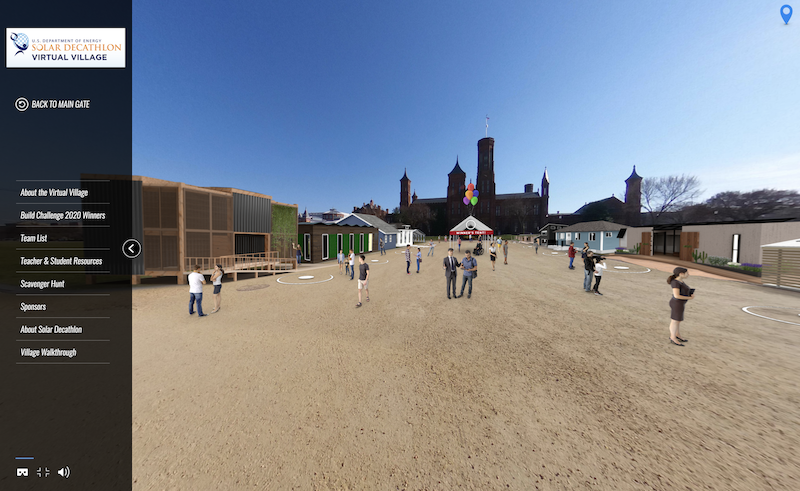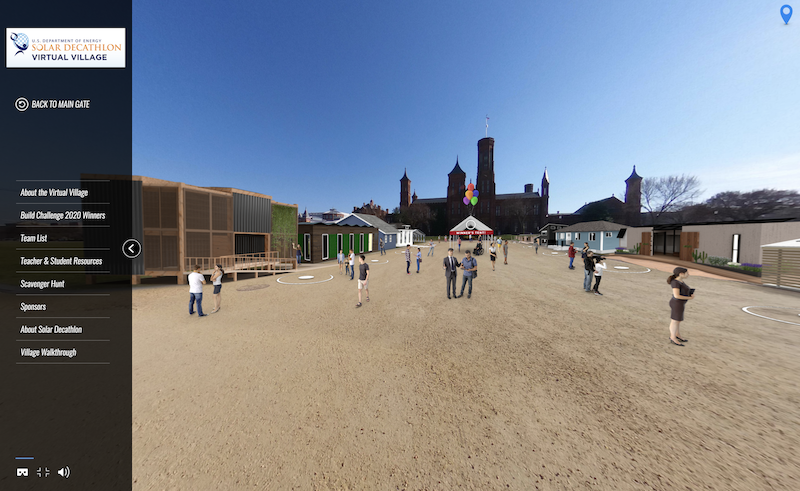 Solar Decathlon: Virtual Village
The U.S. Department of Energy Solar Decathlon is a collegiate competition that challenges student teams to design and build highly efficient and innovative buildings powered by renewable energy. The winners are those teams that best blend architectural and engineering excellence with innovation. When the 2020 event was delayed due to the pandemic, it was transformed into a fun virtual experience.
Austin-Weston: The Virtual X-Perience
The Austin-Weston Virtual X-Perience was created for Austin-Weston, The Center for Cosmetic Surgery. This interactive event allowed visitors to earn chances to win luxury gifts while learning about the cosmetic surgery center and all of the services they have to offer. The event is now over, but you can still explore the space, collect the coins and complete the tasks.
Wreckage of TWA Flight 800
25 years ago, one of the deadliest aircraft disasters in American history shook the world. TWA Flight 800, a 747 jet bound from New York to Paris, exploded off the coast of Long Island, New York. All 230 people on board tragically lost their lives. 
The reconstructed wreckage was moved to an interactive virtual environment before being destroyed after so many years. While we can't share the 360° Experience legally with the public, we can say we were honored to have the ability to complete this project for the Department of Transportation's future training purposes.
Local Leesburg Virtual Scavenger Hunt
The Virtual Scavenger Hunt of Local Leesburg was created to promote several participating locally owned establishments in Leesburg, VA in a fun and interactive way. The 360° Experience allowed participants in the scavenger hunt to explore these establishments, learn about all they have to offer, and seek out prizes (discounts and freebies) hidden at each location. 
UNLIMITED FEATURES
Each Custom 360° Experience is uniquely built for each client.
We'll work closely with you every step of the way to make sure we bring your project vision to life.
Pick and choose from our large number of features and options available below. 
Have an idea that isn't listed? Tell us! Virtual Experiences have endless possibilities, and we're always looking for innovative ways to use our specialized software.
Every 360° Experience gets custom branding unique to each client (logo, menu color, color/style of pop-ups, etc.)
Option to add a customized menu as a sidebar or on the top or bottom of the screen. Menu can include any information you'd like added with option to minimize.
Hotspots, or interactive buttons, can be uniquely created to go along with the theme of the tour.
We can include any and all media you'd like incorporated into the experience; images, albums, video, PDFs, external websites, info boxes, floorplans, E-Learning modules, audio, and more.
Our 360° Experiences can be created for training purposes, incorporating customized E-Learning modules within an interactive environment. Participant data can also be integrated with LMS platforms using SCORM.
Option to add objects to your 3D environment after 360° scans are complete of your space.
Ability to overlay video with transparent background to make it look like a person is actually in the scene! Great for introductions, giving directions, informational videos, etc.
Option to incorporate 360° views from up above! 

With our Custom 360° Experiences, we give you the option of hosting the virtual tour on your own website, or we will host it for you.
contact us
Interested in a Custom 360 Experience?
Contact us using the form below and tell us about your project.