custom 360° Experiences
Our Custom 360° Experiences are the all-in-one solution for virtual showcases, events, and e-learning. With an incredible amount of flexibility, these virtual experiences take user engagement to an all new level.
Check out some of our uniquely built custom 360° experiences below!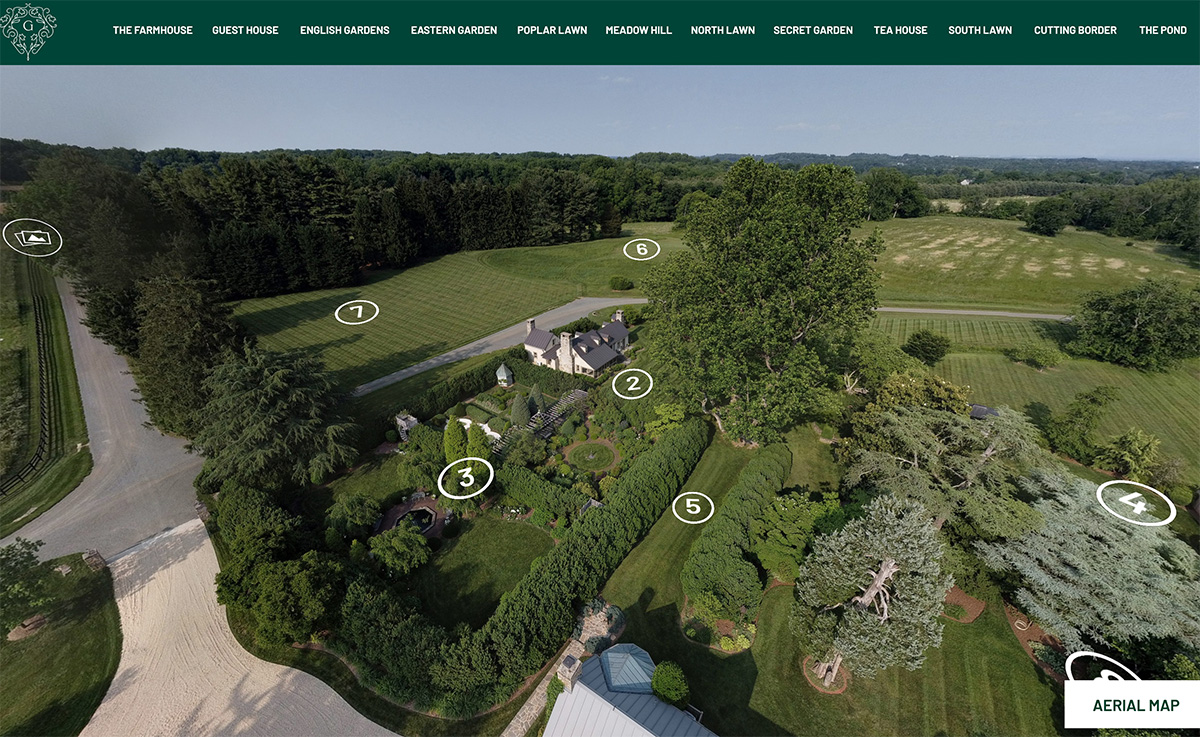 GLENSTONE GARDENS
Tucked under the Eastern slope of the Bull Run Mountains lies Glenstone Gardens, a meticulously manicured Virginia estate ideally suited for hosting sophisticated celebrations synonymous with Middleburg's grandeur and elegance. Located less than forty-five miles from our nation's capital, Glenstone Gardens' centuries old grounds, sweeping views and English inspired gardens stand in stark contrast to the bright lights, hustle and bustle of the nearby city.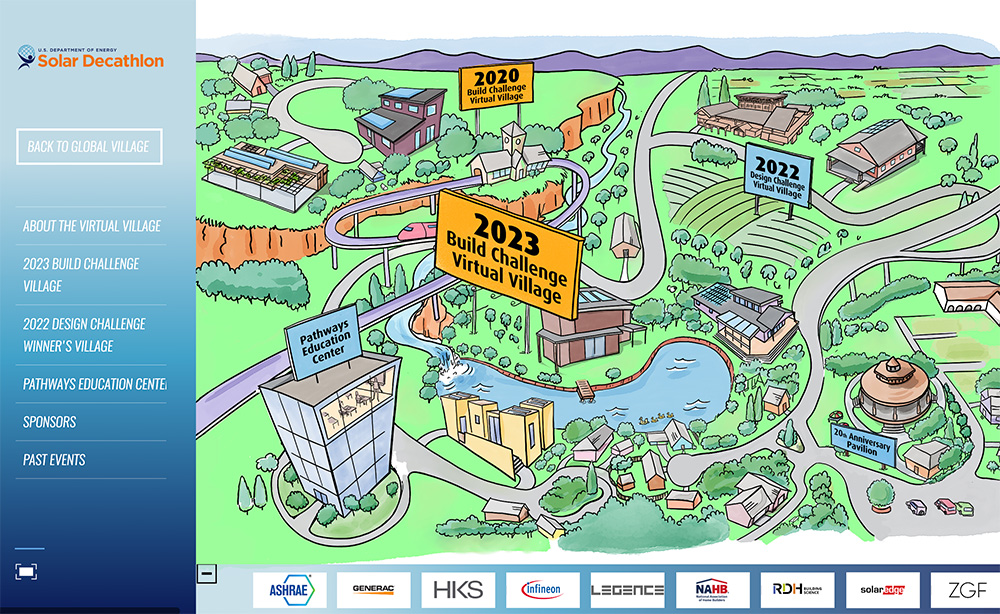 SOLAR DECATHLON: VIRTUAL VILLAGE 2023
The U.S. Department of Energy Solar Decathlon® is a collegiate competition that has inspired thousands of students worldwide to enter the clean energy workforce since its inception in 2002. Today, the 10 contests that are the foundation of Solar Decathlon challenge students to design and build high-performance, low-carbon buildings that mitigate climate change and improve our quality of life through greater affordability, resilience, and energy efficiency. The winners are those teams that best blend architectural and engineering excellence with innovation.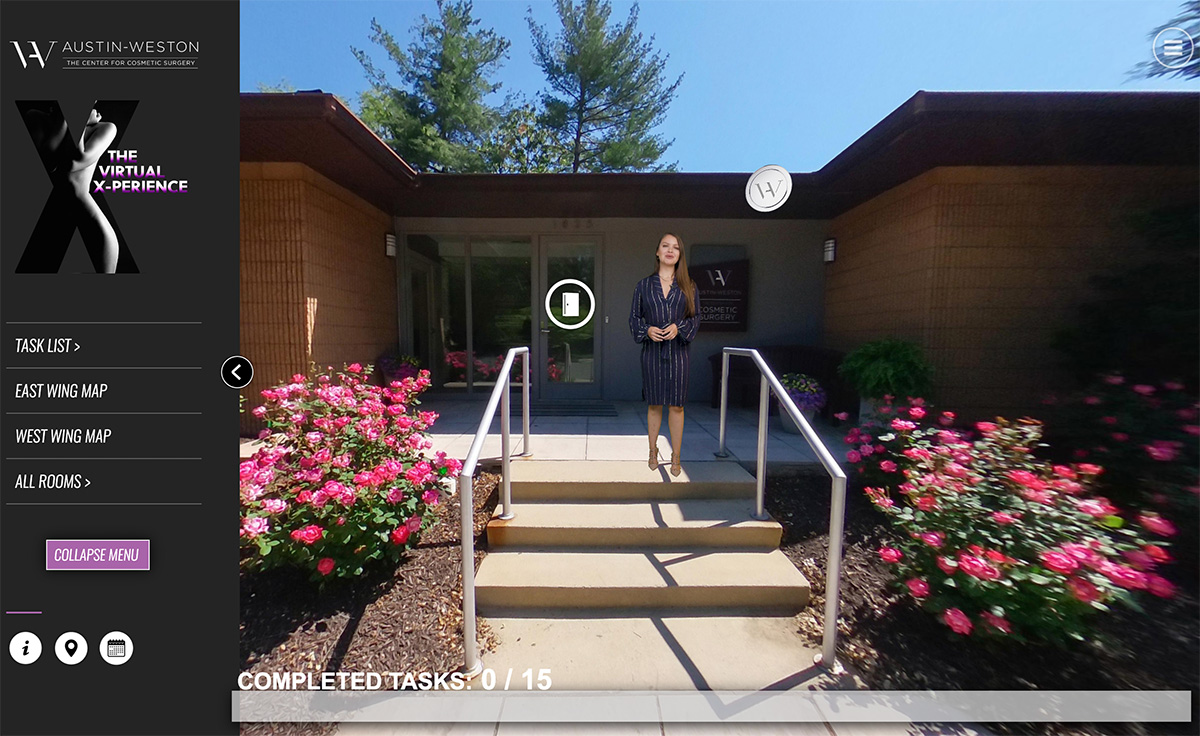 AUSTIN WESTON: THE VIRTUAL X-PERIENCE
The Austin-Weston Virtual X-Perience was created for Austin-Weston, The Center for Cosmetic Surgery. This interactive event allowed visitors to earn chances to win luxury gifts while learning about the cosmetic surgery center and all of the services they have to offer. The event is now over, but you can still explore the space, collect the coins and complete the tasks.
WRECKAGE OF TWA FLIGHT 800
25 years ago, one of the deadliest aircraft disasters in American history shook the world. TWA Flight 800, a 747 jet bound from New York to Paris, exploded off the coast of Long Island, New York. All 230 people on board tragically lost their lives. The reconstructed wreckage was moved to an interactive virtual environment before being destroyed after so many years. While we can't share the 360° Experience legally with the public, we can say we were honored to have the ability to complete this project for the Department of Transportation's future training purposes.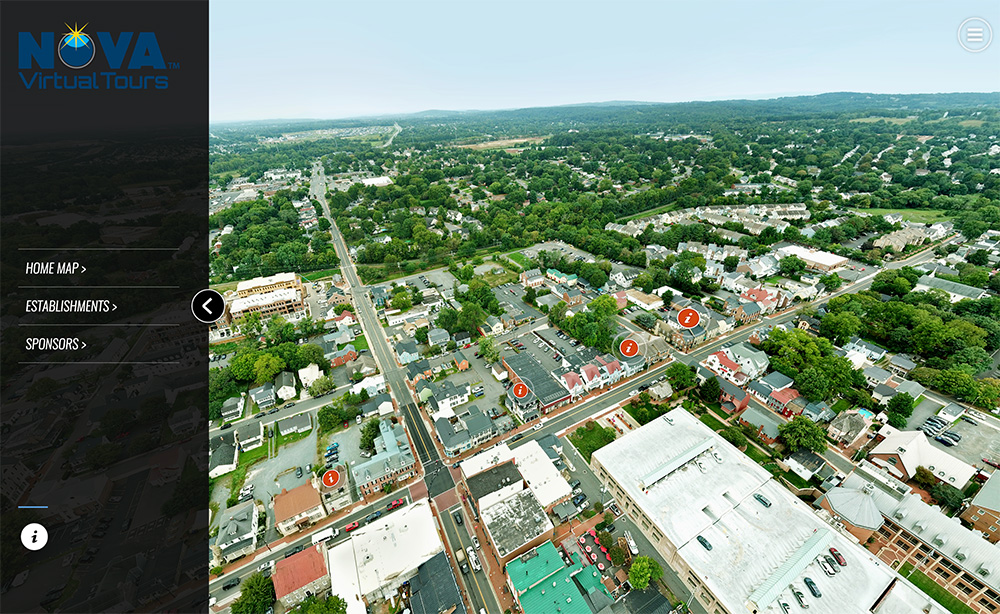 LOCAL LEESBURG VIRTUAL SCAVENGER HUNT
The Virtual Scavenger Hunt of Local Leesburg was created to promote several participating locally owned establishments in Leesburg, VA in a fun and interactive way. The 360° Experience allowed participants in the scavenger hunt to explore these establishments, learn about all they have to offer, and seek out prizes (discounts and freebies) hidden at each location.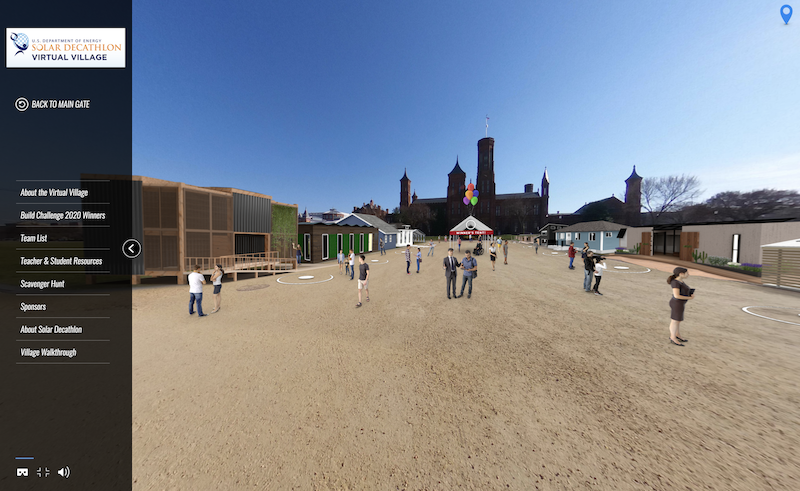 SOLAR DECATHLON: VIRTUAL VILLAGE 2020
The U.S. Department of Energy Solar Decathlon is a collegiate competition that challenges student teams to design and build highly efficient and innovative buildings powered by renewable energy. The winners are those teams that best blend architectural and engineering excellence with innovation. When the 2020 event was delayed due to the pandemic, it was transformed into a fun virtual experience.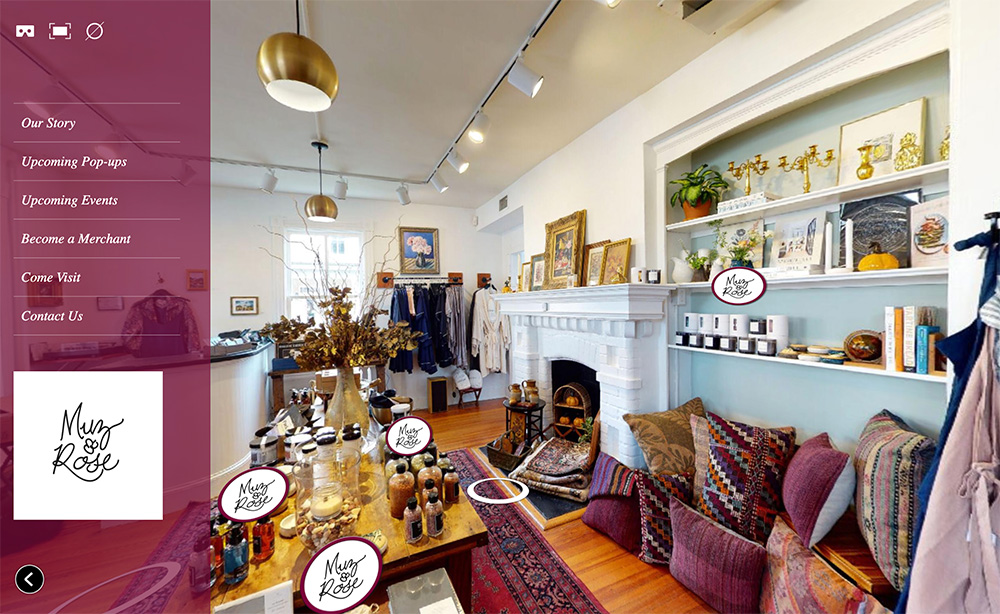 MUZ & ROSE
Muz & Rose is an eco-conscious boutique in the heart of Downtown Leesburg, VA with a focus on community, sustainability, and discovery. Everything this shop carries is picked with intention & made to last. They also host seasonal residencies & pop-ups + community-driven events & workshops in downtown Leesburg!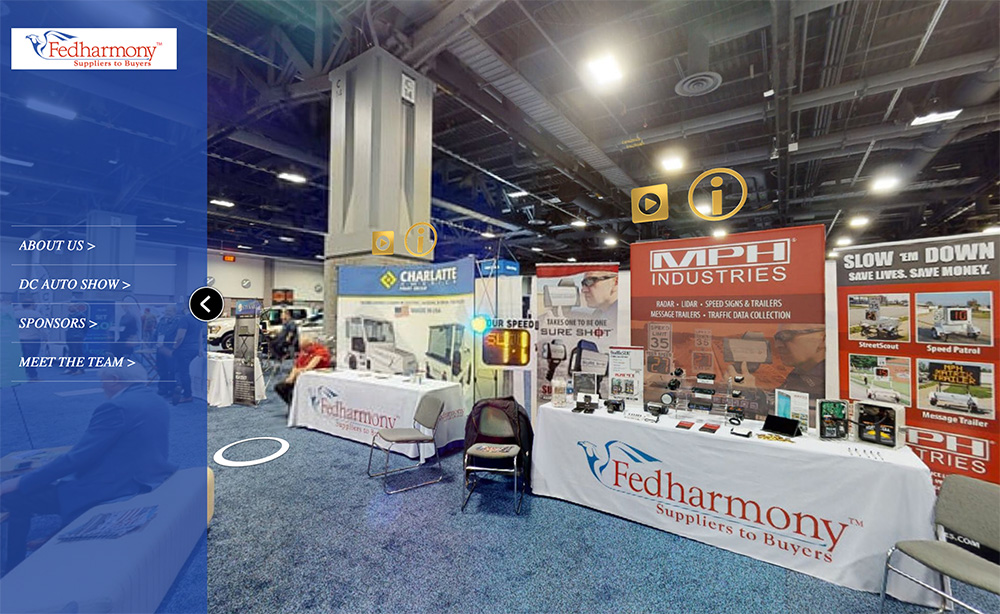 FEDHARMONY
Fedharmony supports federal agencies by bringing together industry leaders with proven past performance to support complex requirements.
This tour was created to show off various sponsors that attended the 2023 Washington, DC Auto Show.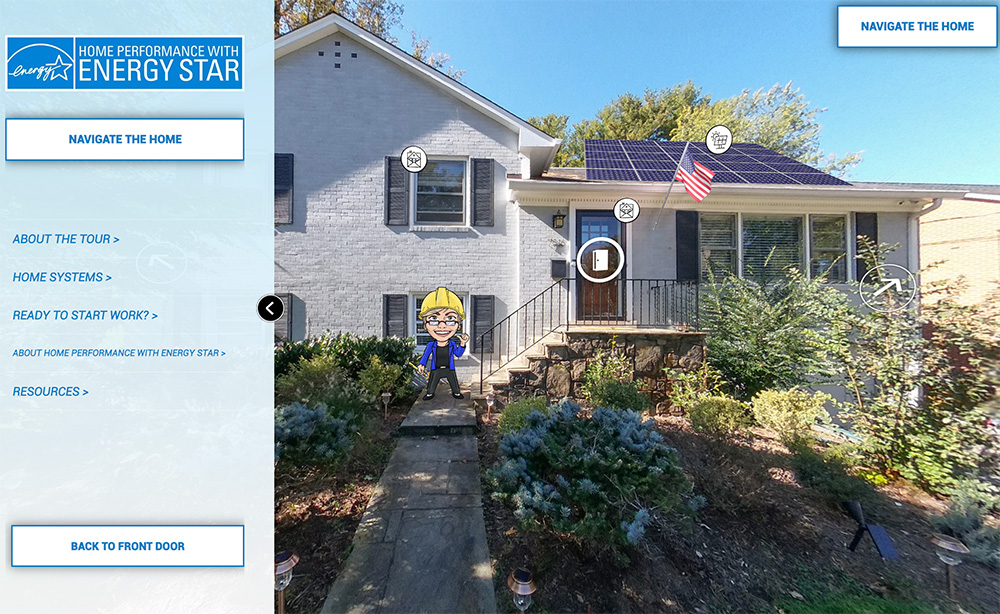 HOME PERFORMANCE WITH ENERGY STAR
In this interactive multimedia tour, you'll have the opportunity to explore a real home that's been evaluated to improve energy performance and lower utility bills, reduce carbon emissions, and improve comfort and health.
Each hotspot has an icon that represents a home system: building envelope, appliances, HVAC, lighting, and water.
Each Custom 360° Experience is uniquely built for each client. We'll work closely with you every step of the way to make sure we bring your project vision to life.
Pick and choose from our large number of features and options available below. Have an idea that isn't listed? Tell us! Virtual Experiences have endless possibilities, and we're always looking for innovative ways to use our specialized software.
CUSTOM BRANDING
Every 360° Experience gets custom branding unique to each client (logo, menu color, color/style of pop-ups, etc.)
PERSONALIZED MENU
Option to add a customized menu as a sidebar or on the top or bottom of the screen. Menu can include any information you'd like added with option to minimize.
UNIQUE HOTSPOTS
Hotspots, or interactive buttons, can be uniquely created to go along with the theme of the tour.
MEDIA POP-UPS
We can include any and all media you'd like incorporated into the experience; images, albums, video, PDFs, external websites, info boxes, floor plans, E-Learning modules, audio, and more.
 E-LEARNING
Turn your Custom 360° Experience into a comprehensive teaching and testing tool. We can incorporate discovery hotspots ("treasure hunts"), question or quiz cards, integrated scoring, reporting systems and LMS integration. This allows for training that is safer, less intrusive and more scalable than on-site practice. Simulate scenarios, situations and places and use gamification or conditional actions to allow students to battle each other and to earn badges while learning.
Discovery learning, remote field trips, facility tours, training simulations, health & safety quizzes and hazard hunts are just a few possible applications of virtual tour E-Learning.
3D OBJECT INTEGRATION
Adding 3D objects to your 360° environment adds a realistic and immersive element by allowing participants to interact with and explore the three-dimensional objects. This feature enhances the visual experience, provides a sense of depth and scale, and enables users to examine objects from various angles, fostering a deeper understanding and engagement with the tour content. 
CUSTOM 3D ENVIRONMENTS
Whether you need a virtual showroom, a virtual event space, an architectural visualization, or a virtual training environment, our custom 3D environments are tailored to suit your unique needs.
360
° VIRTUAL STAGING
360 Virtual Staging can enhance your Custom 360 Experience by allowing viewers to visualize the space with a completely different look and feel. Residential real estate, commercial office buildings, event planning, venue owners, and hospitality and vacation rentals are just a few of the types of tours that would benefit from using this feature.
360° Video Panoramas
By incorporating 360° videos, users can feel as if they are physically present in the environment, allowing them to explore the surroundings from different angles and perspectives. This feature enhances the realism, engagement, and sense of presence within the virtual tour, making it a more captivating and interactive experience for viewers. This feature is especially useful for travel & tourism tours, education & training tours, and zoo & aquarium tours, among others. 
AERIAL 360
° VIEWS
Elevate your visual storytelling and engage your audience with the captivating experience of 360° aerial views. Capture stunning panoramic images and immersive aerial footage that showcase the beauty of landscapes, landmarks, and properties. This feature can be especially useful if you have a large property that you want your viewers to be able to view from up above, or use as an overhead map. 
AUDIO TOUR GUIDE
An audio guide for a virtual tour offers enhanced engagement and accessibility, allowing participants to listen to narrated commentary while exploring at their own pace. It provides flexibility for multitasking, offers language options, and adds rich storytelling to create a more immersive and memorable experience. Audio guides are cost-effective, scalable, and convenient, enabling on-demand learning from anywhere at any time.
LIVE GUIDED TOURS & VIRTUAL MEETING ROOMS
Option to add a virtual meeting room on top of your tour! This feature is essentially adding the ability to video chat with your clients/visitors right within your Custom 360° Experience. After embedding your tour on your website, you can allow your audience to dial in and have you talk and guide them through the virtual tour. They can look around on their own or follow your screen to have you point out details and give a personal (sales) presentation. They can also request to have their screens be mimicked on your and everybody else's screen to ask questions on specific parts of the tour.
GREEN SCREEN VIDEO
Ability to overlay video with transparent background to make it look like a person is actually in the scene! Great for introductions, giving directions, informational videos, guided tours, etc.
SELF HOST OPTION
With our Custom 360° Experiences, we give you the option of hosting the virtual tour on your own server, or we will host it for you.
contact us
The possibilities are truly endless when it comes to our Custom 360 Experiences, and we can't wait to work with you on your unique project!
Get in touch using the form below and tell us how we can make your vision come to life.