Nova Virtual Tours has worked closely with real estate agents for over 20 years. We know all that goes into the lengthy and often complicated process of a real estate transaction. What you go through as a realtor is not easy – but hopefully, by using some of the coolest technology available today in the correct way, your life can be made just a little easier.
It's no secret that there are a number of benefits that 3D Virtual Tours provide a real estate agent. Unless you are a realtor who has been living under a rock, you probably already know all about 3D Home Tours, or have at least witnessed their rise in popularity over the last several years. 3D Technology is steadily taking over the Home Search Process, providing an essential 24/7 Open House to potential buyers (which they can access on their couch, in their PJs, while watching Netflix!). 
Being fully immersed in the world of real estate for so many years, we've taken note of how the 3D Virtual Tour has revolutionized the home buying process for real estate agents. Now, we want to share exactly how you can get the most out of this advanced technology. 
An example of a 3D Home Walkthrough we recently did in Northern Virginia.
Receive More Offers on a Home – Faster!
Research has shown that the time to an offer on a listing is cut in half for those that have 3D Home Walkthroughs available (1). A buyer's unique ability to interactively explore a property at their own convenience, as many times as they need, all while accessing all of the home's information at their fingertips, builds the confidence that is necessary to put in an offer on a home.
Contracts are Less Likely to Fall Through
One of the worst things that can happen during a real estate transaction is having the contract fall through. Months of work down the drain. This can occur for many different reasons, but one of the main reasons is a lack of confidence in the buyer. As we've previously discussed, 3D Virtual Tours boost confidence levels in potential buyers, resulting in less contracts that fall through.
In discussing your plan with the seller to market their home effectively, you can show them that by hiring you, they will be receiving the most innovative way of displaying their home to potential buyers. Right off the bat, this establishes a relationship of trust. You are conveying that you want the best of the best for your client, and they will respect and value this. The process of selling and buying a home is one of the most important decisions a person can make in their life, and if the sellers don't trust you to guide them through the process, they will hire someone else that they were able to establish a trusting relationship with. 
Stand Out from the Competition
Although 3D Technology is on the rise, a substantial amount of real estate agents are still not yet offering this service as part of their listing packages. Being able to provide the most innovative technology and establishing yourself as a technology leader sets you apart from the competition significantly during a listing appointment. As your potential client conducts their agent interviews, offering this unique extra service could just be the outstanding quality that pushes them to choose you over a "less advanced" alternative.
Spark Engagement with Interactive Features
3D Virtual Technology was literally built for user engagement, which is perfect since boosting engagement is exactly what you want to do in order to get your listing sold. Users spend 3X longer on listing pages that include a 3D Tour (2). The following features are designed to keep viewers engaged with your listing as long as possible:
Mattertag Posts: Provide info about amenities and features of the home throughout the Interactive Walkthrough

Accurate Measurements: Take measurements throughout the home with 99% accuracy

Schematic Floor Plans: Although the 3D tour enhances value on its own, traditional marketing materials are still expected to accompany the tour. Professional black and white floor plans can be easily generated from any 3D space, and include individual room labels and measurements.

2D Professional Photos: Just as floor plans are still necessary, you may also want to include 2D photos in your marketing materials, and 2D snapshots can be generated at all different angles within the 3D virtual tour.

Virtual Reality: 3D Virtual Tours have the technological capability to be converted into immersive Virtual Reality.

iOS App: 3D Spaces can even be viewed offline with the Matterport iOS App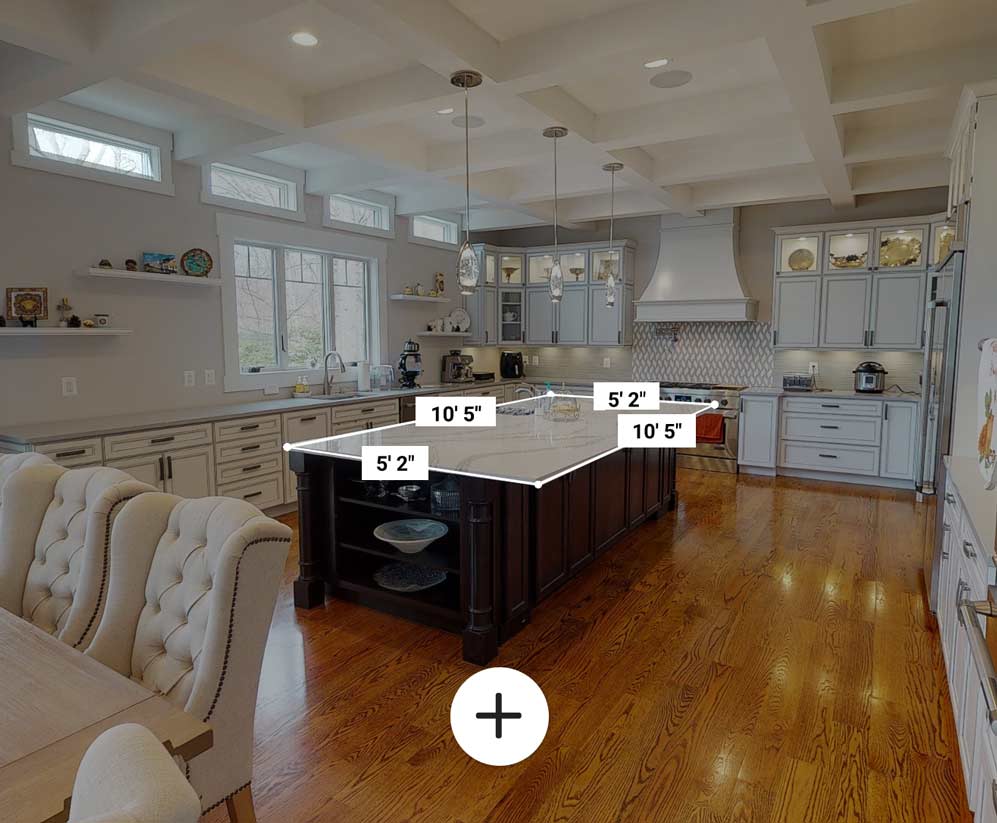 Example of Matterport Measurements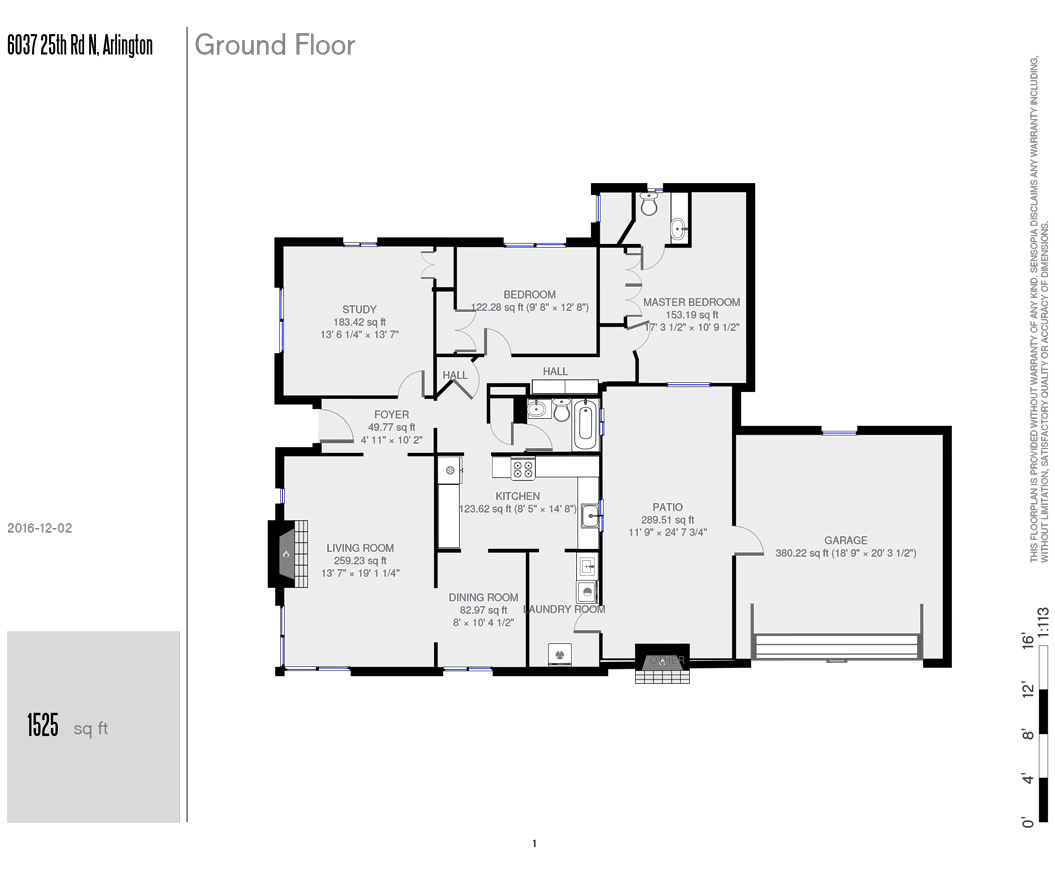 Example of Matterport Floor Plan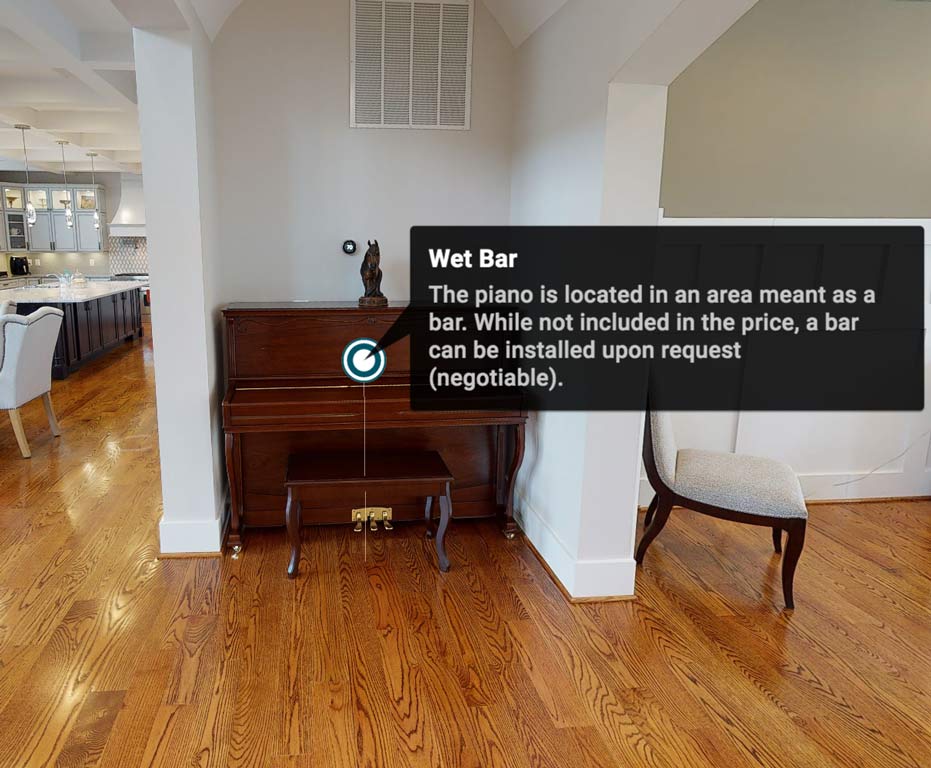 How to Show Off Your 3D Tour
Once you have the completed 3D Tour of your listing, it is essential to post and share it everywhere you possibly can in order to generate buzz and increase engagement. Here is a list of all the places you can share your 3D House Tour:
Embed the tour on your website using the Branded Embed Code

Use the MLS compliant link as your "virtual tour link" in the MLS

Realtor.com – When you add your 3D Tour to Realtor.com, the first photo will be replaced with the immersive 3D Tour. There is even an option to filter search results only to show homes that have a 3D Tour available!

Share on social media (Facebook, LinkedIn, Instagram, Youtube, Twitter, etc) – Short videos are wildly popular all over social media and are proven to get the most engagement. For this reason, Teaser Videos showing a short highlighted clip of your 3D Home Walkthrough are automatically generated and made available for you to share – perfect for all social channels!

Send out "Just Listed" postcards with a photo of the dollhouse view of the listing, along with a QR code that allows you to easily access the 3D Tour Link on your phone

Include a link and QR code on your flyers and brochures

Publish to Google Street View

Publish to VRBO
Any listing, no matter the size, can benefit from a 3D Home Walkthrough for so many of the reasons mentioned above. In today's market, it is so important to keep up with new technology in order to stay relevant within your industry. By implementing 3D Home Walkthroughs in your listing process, you are locking in more engagement, wowing your clients while building trust, saving time and building buyer confidence, and generating significantly more buzz resulting in more interest, and eventually a sale.
1. https://matterport.com/blog/realities-real-estate-series-efficiency-closing-process-3d-tours
2. https://apartments.com
Want to win more listings, impress your clients, and sell homes faster?
The Super Nova Tour Package is our all-in-one solution for realtors!
Engage buyers and boost leads with our cutting edge Matterport 3D House Tour technology, and get all of the add-ons and features you need rolled into one discounted price.